State agencies and program managers within the 529 plan industry appear cautiously optimistic about the second half of the year, according to a
recent survey by Savingforcollege.com
.
While some have seen a negative impact on 529 plan account openings, others report an increase in account openings or no change from expectations. In addition, rather than cutting marketing activities, plan managers appear more focused on communicating more actively, updating marketing messages, and re-allocating marketing activities to better match current media consumption during a time of quarantine.
The survey was conducted online from April 6th through the 17th. The objective of the survey was to get an early indication of how market volatility and economic uncertainty resulting from the coronavirus has impacted the industry.
Twenty-two respondents representing over thirty-five 529 plans participated in the survey. The plans represented include a mix of prepaid tuition plans, direct-sold savings plans and advisor-sold savings plans.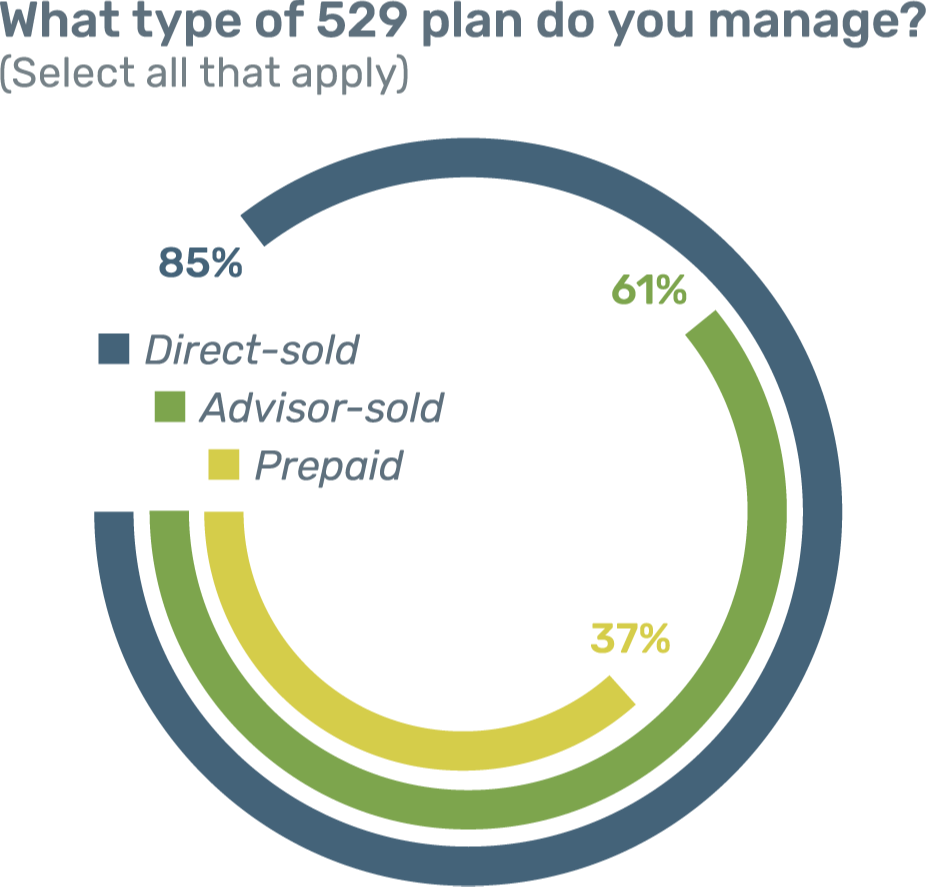 Respondents were asked to compare current activity in their plans to their expectations or to typical activity at this time of year. On the whole, a mixed picture emerged with no clear trend. For example:
New account openings: 41% of respondents indicated new 529 plan account openings were slightly lower than expected, 27% said they were higher than expected, and 18% saw no change.
Call center or customer service inquiries: 46% of respondents reported increased activity while 36% reported lower activity.
Investment allocation changes: 54% reported higher investment allocation changes in their plans compared to 32% who saw no change.
Account contributions: 27% of respondents saw an increase in 529 plan account contributions while 32% saw a decrease.
Note that some plans did not have enough information available yet to be able to answer all questions.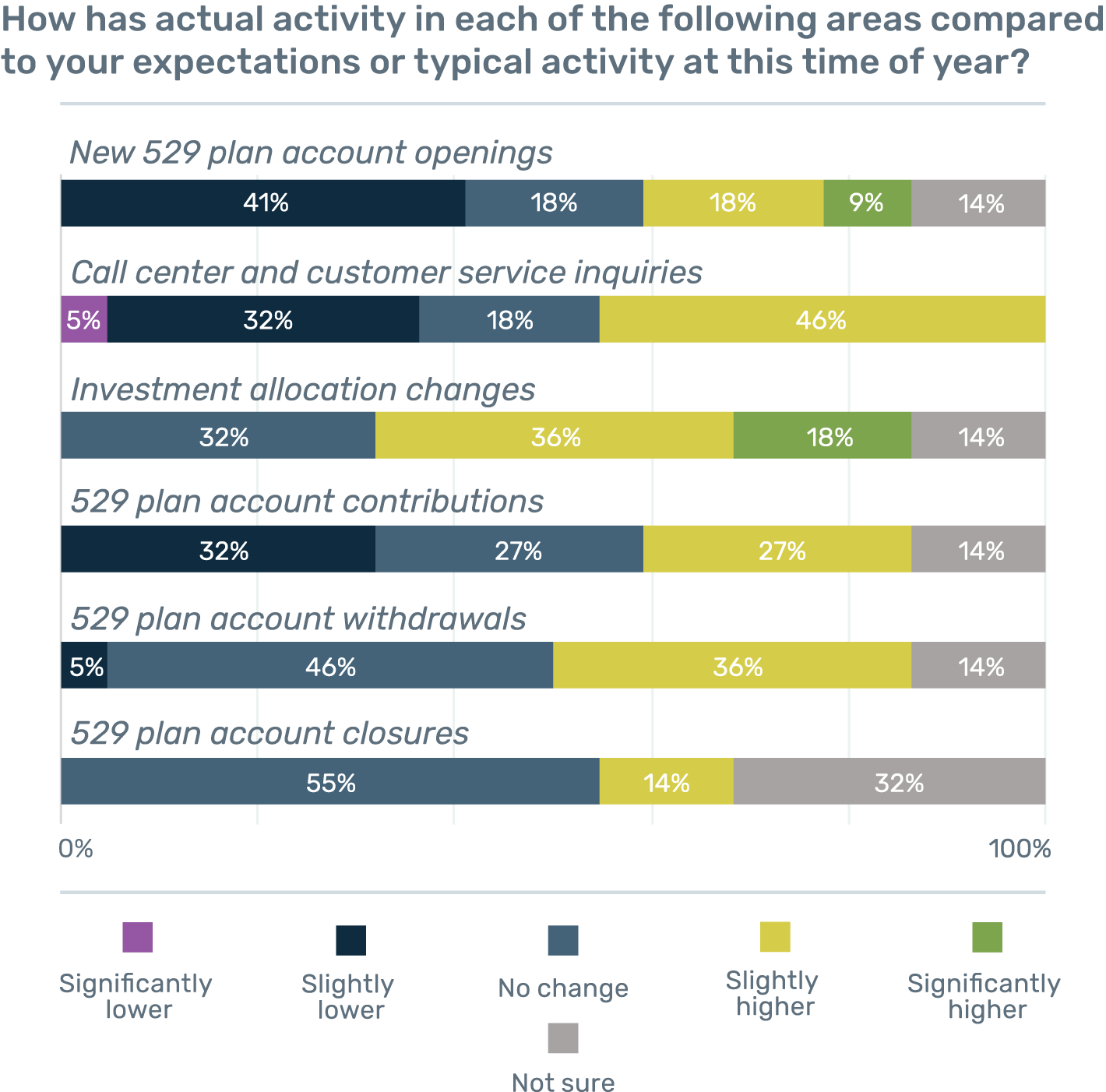 Respondents included the following comments to provide context to their answers:
"There are slight increases in certain types of customer service inquiries (e.g. questions about investment allocations), but overall inquiries are down slightly."
"Less than 5% of assets have been involved in investment option changes. About a third have selected a more aggressive investment option."
"Significant increases into our FDIC portfolios – over 200% increase in cash inflows"
Of respondents who manage more than one type of 529 plan, 91% indicated that they were seeing similar impacts across all plans.
Increasing Communication
Asked about what steps they were taking in response to the current situation, there seemed to be a clearer trend. A majority of respondents are focused on more proactive communications with their account holders, as well as updating existing marketing messages. Less than 50% of respondents indicated that they were cutting back on marketing activities or postponing planned activities. In addition, 9% of respondents indicated they are actually increasing marketing activitiesComments received included: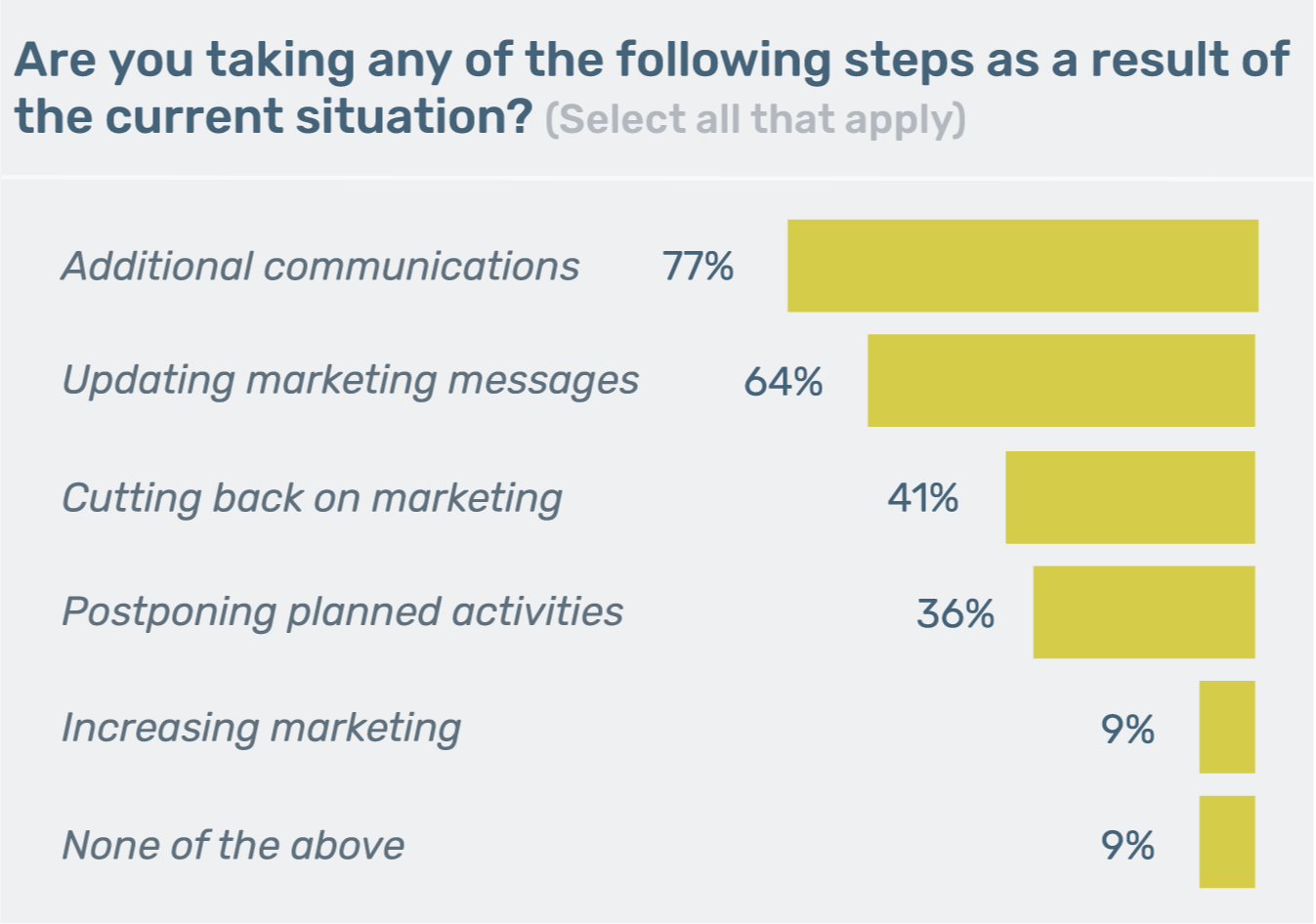 "We are re-writing our planned communications to be more cognizant of the current environment."
"We are not canceling marketing activities altogether nor necessarily cutting back, but mostly postponing until later in the year."
"We haven't cut back on, or increased marketing activities. However, some of our activities are driven by broker dealers (conferences, meetings etc.). There is a remarkable slowdown in those activities."
"Cancelled all marketing public facing events and shifted to more webinars. More regular email communication being developed, mostly on issues related to market uncertainty, recontributions, etc."
"While we are not cutting back on marketing activities, we are redirecting spending towards other channels. For example, we had a spring out-of-home campaign planned (billboards and transit). We reallocated the majority of those dollars to broadcast and streaming services due to shifting media consumption patterns."
"Due to the postponement/cancellation of on-site events, our participation in community festivals, school/employer presentations, and benefits fairs has diminished."
529 Plan Industry Confidence
Finally, respondents were asked to select a number from 1 to 5 to indicate their level of confidence that 529 plan account openings and contributions will be at expected levels in the second half of the year. 5 indicates very confident and 1 indicates not confident at all.
The average response was 3.3, implying that respondents may feel it's too early to make a determination. However, 37% were confident and only 14% indicated a lack of confidence. On the whole, respondents appear to expect conditions for 529 plans to improve in the second half of the year.