Being a parent and raising kids can be rewarding. But it also comes with a lot of stress and uncertainty, and handling complex financial matters can be daunting.
Fabric is an app designed for young families to help them organize their finances in one single place.
Fabric has a rating of 4.9/5 in the App Store and a rating of 4.8/5 on Trust Pilot.
How it Works
Parents have a laundry list of to-dos when it comes to tackling financial responsibilities to ensure their family is taken care of. A big part of that is dealing with the not so pleasant things like life insurance and writing a will. These are tasks that are known for being complicated and overwhelming.
Fabric helps users tackle their parent must-do list in a way that's simple and straightforward and focuses on three main areas.
Life Insurance
This app helps users find affordable term life insurance that's tailored to meet their specific needs and budget. Apply online by answering some brief questions — a process that only takes about 10 minutes. If any questions arise, a team of licensed professionals are on standby to answer them.
Then, users are matched with personalized policies issued by Vantis Life, a Penn Mutual company. Parents can find 10, 15 and 20-year terms and coverage ranging from $100,000 to $5,000,000. Pricing for life insurance will vary, but policies are available for as low as $15 per month.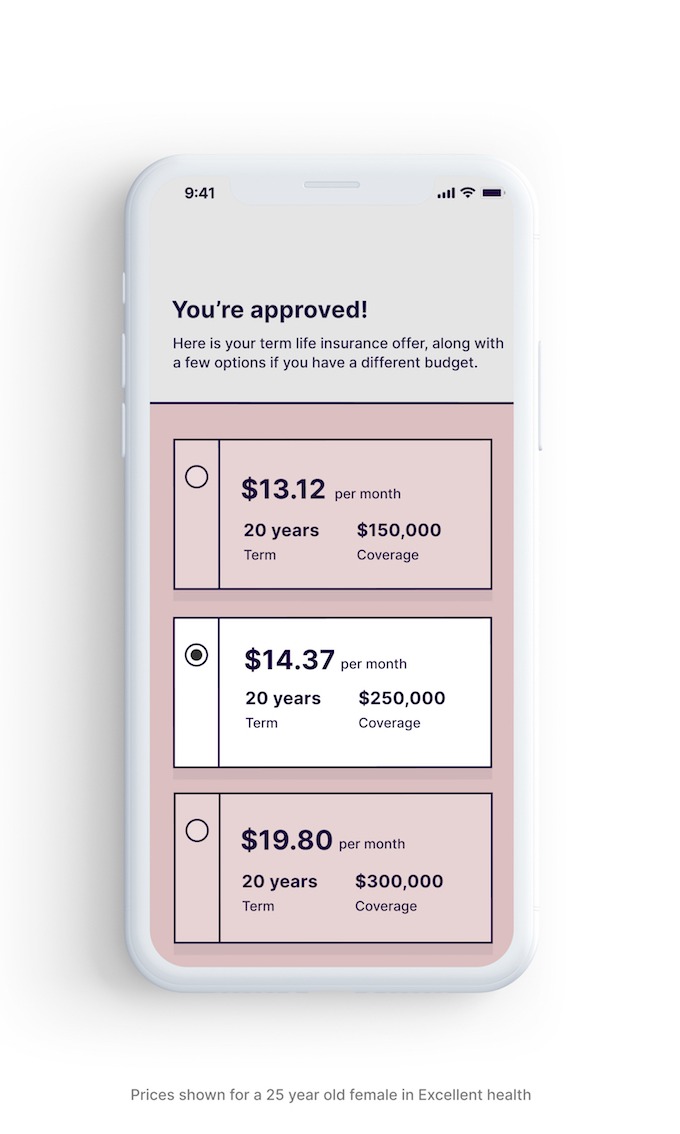 Wills
Fabric also allows a parent and their spouse to create a free will that's legally binding in about five minutes. Answer some simple questions and fill out basic personal information, while Fabric walks users through the process step-by-step.
Appoint a guardian and beneficiary, and make final arrangements to ensure children are protected no matter what. All it takes is a printer, a pen and two witnesses.
One of the great things about Fabric is that a parent can mirror their will with their spouse, allowing them to create two wills at once without having to do twice the work. Users can then share details with trusted contacts directly from the app, while controlling who sees what.
Organizing a Family's Financial Information
Fabric helps manage long-term assets, such as cash, investments, credit cards and loans — all from a single platform. Many parents have their assets in more than one place, and it's not always easy to have a clear snapshot of how much money they actually have.
But with Fabric, they can conveniently keep tabs on everything through the "Financial vault," where critical information is stored.
The Benefits of Using Fabric
The app's main selling point is its simplicity. "Fabric is unique because it puts wills, insurance, and other tools into a single destination, without complicating the user interface," says Sarah Perez of TechCrunch. For parents who are interested in obtaining life insurance, creating a will or generally getting their finances together, they can do so painlessly with this platform.
Fabric is an amazing resource for learning more about life insurance and wills. Through the app, users can find answers to common questions like:
How life insurance works
What types of life insurance policies are available
How much coverage they need
Whether or not they really need a will
This makes it perfect for busy parents who need to know the basics but aren't sure where to get started.
It's also a highly secure platform, offering bank-level security, 256-bit encryption, two-factor authentication, automatic lockout and biometrics. Security is a major concern in this day and age, but users don't have to worry about their sensitive information being compromised.
At Savingforcollege.com, our goal is to help you make smart decisions about saving and paying for education. Some of the products featured in this article are from our partners, but this doesn't influence our evaluations. Our opinions are our own.